LAUNCH Creader Professional 229
CRP229,Internet Code Reader,Powerful,Creative,Network.
CRP229 is a small-sized personal diagnsotic tool developed by LAUNCH to meet more profound diagnostic demand from DIY market.Based on Android OS,and integrated with OBD&EOBD standard protocols and basic diagnsotic functions of all car systems,it makes diagnosis and maintenance easier and cost even less. Maintenance and Service ALL in one,Becasue it has more application,like Engine Oil Reset,ABS Bleeding,and more.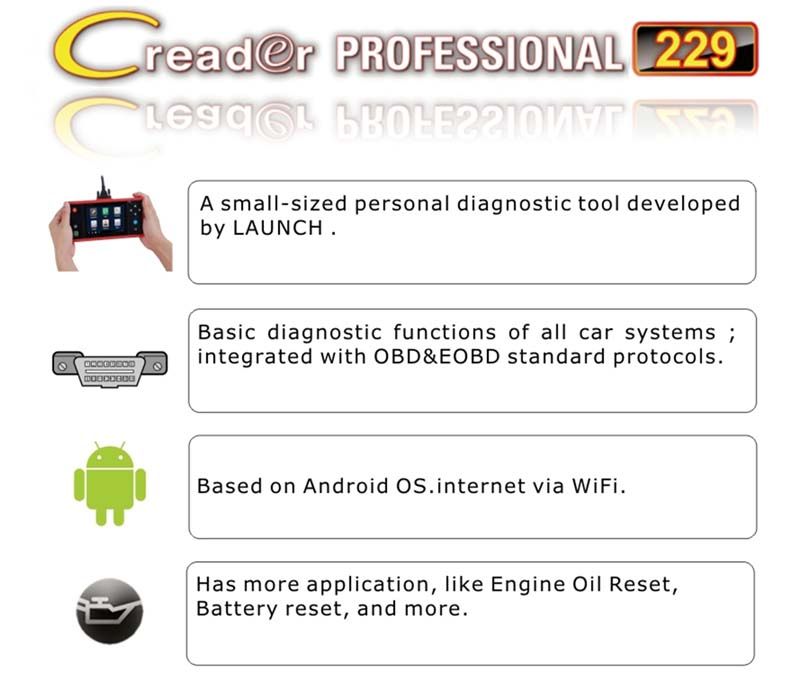 Hight Light:
1.A small-sized personal diagnostic tool developed by LAUNCH.
2.Basic diagnostic function of all car system;integrated with OBD&EOBD standard protocols.
3.Based on Android OS,internet via WIFI.
4.Has more application,like Engine Oil Reset,ABS Bleeding,and more.
5.All in one:CRP229=CRP129 + Creader VI + CR VII + ...........
6.Full Electric Control Unit Diagnosis:ENG,AT,ABS,SAS,IPC,BCM,SEAT,Break PAD Reset,Oil reset,OBDII function
7.Record and Replay:store and view data in real tiem,easy to diagnose.
8.Graph data in full color:4 data streams can be displayed on each screen.
9.Support OBD I diagnosis:support BMW 20PIN,support Mercedes-Benz 38PIN,support Chrysler CCD Protocol.
10.update software via wifi,mobile internet era,wireless communication,Android system,
What's CRP229?
It is professional internet code reader!
A good tool for making money!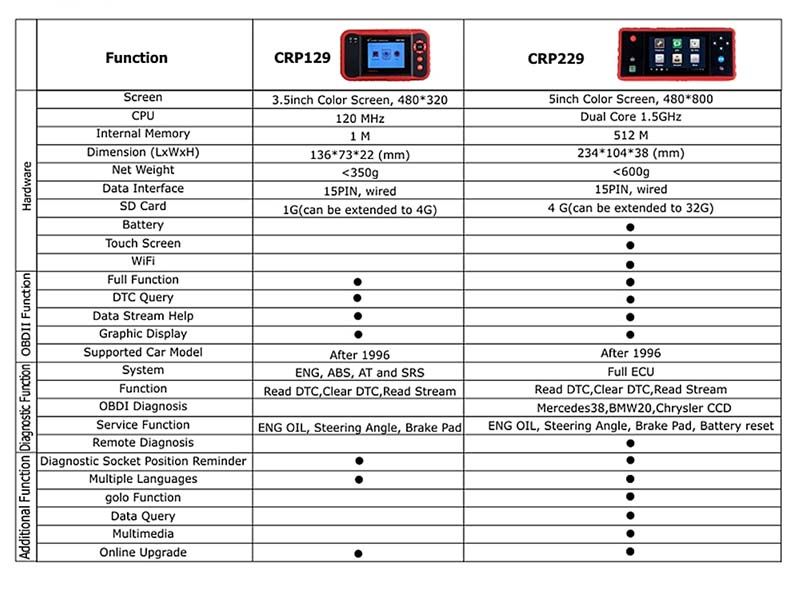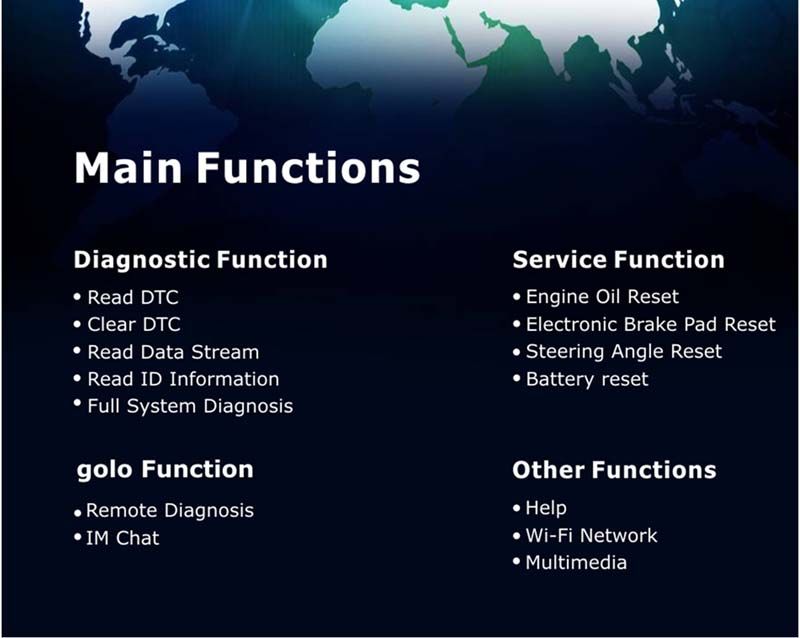 Main Functions:

1.Diagnostc Function:
(1).Read DTC
(2).Clear DTC
(3).Read Data Stream
(4).Read ID Information
(5).Full System Diagnosis
2.Service Rest Function:
(1).Engine Oil Reset
(2).Electronic Brake Pad Reset
(3).Steering Angle Reset
(4).Battery Reset

3.golo Function:
(1).Remote Diagnosis
(2).IM Chat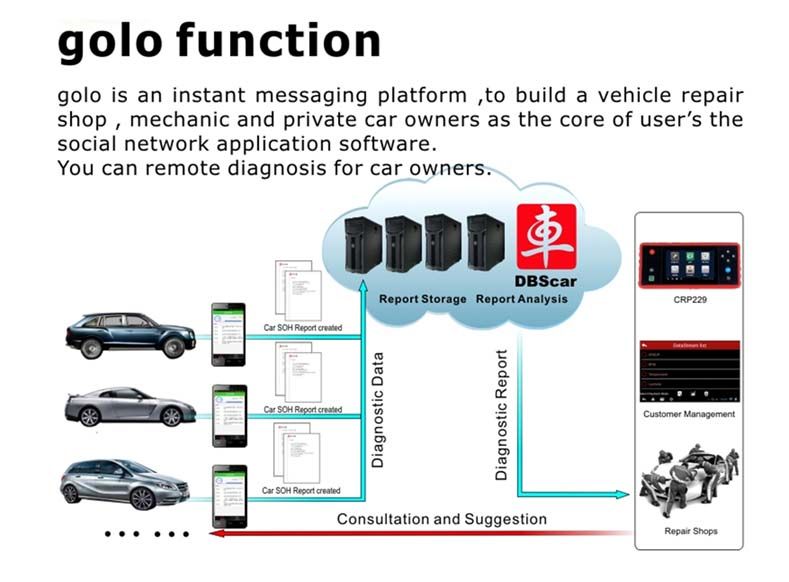 4.Others Functions:
(1).Help
(2).Wi-Fi Network
(3).MultiMedia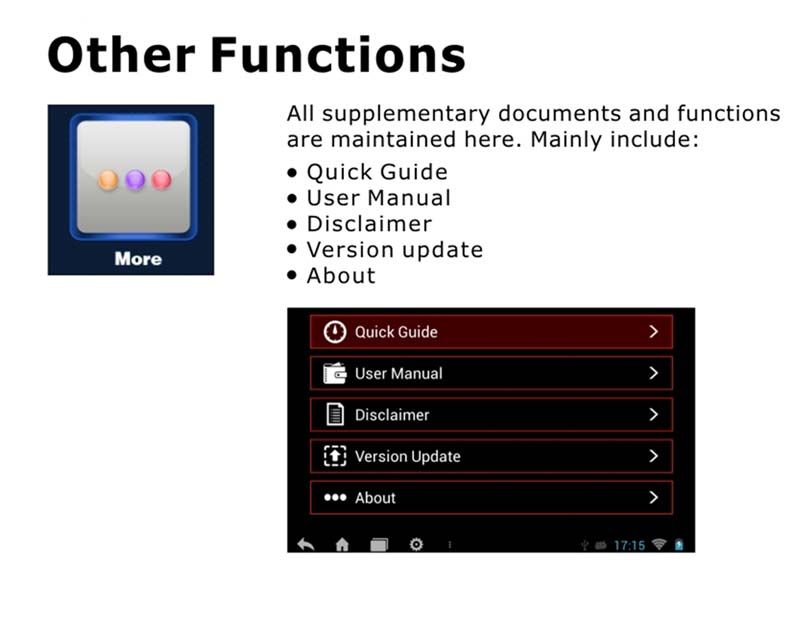 Powerful Coverange:
Support over 41 main models in Europe,America and Asian regions
BMW,Mercedes Benz,Land Rover,Porsche,Fiat,Skoda,Volvo,AUDI,Smart,Opel,VW,
Peugeot,Citroen,Dacia,VAUXHALL,MINI,SAAB,SEAT,Jaguar,Mazda,Honda,Mitsubishi,
Lancia,Nissan,Acura,TOYOTA,infiniti,Crown,ISUZU,Suzuki,GM,FORD,Chrysler,Lexus,Renault
KIA,Alfa Romeo,Dodge


Hardware:
1.5GHz Daul Core Processor.
512M Internal Memory.
Extended Micro SD(TF) Card up to 32G
2940mAh Polymer Lithium-Ion Battery
5 inch Color Capacitive Touch Screen
Support Wi-Fi Network

Parameter:
Screen:5 inch touch
CPU:1.5GHZ
Memory:512MB
Input Voltage Range:9-15V
Connection:15PIN Diagnostic Interface
Working Temperature:0 to 40oC
Storage Temperature:-20 to -70oC
Dimension:L*W*H=234*104*38(mm)
Net Weight:< 600g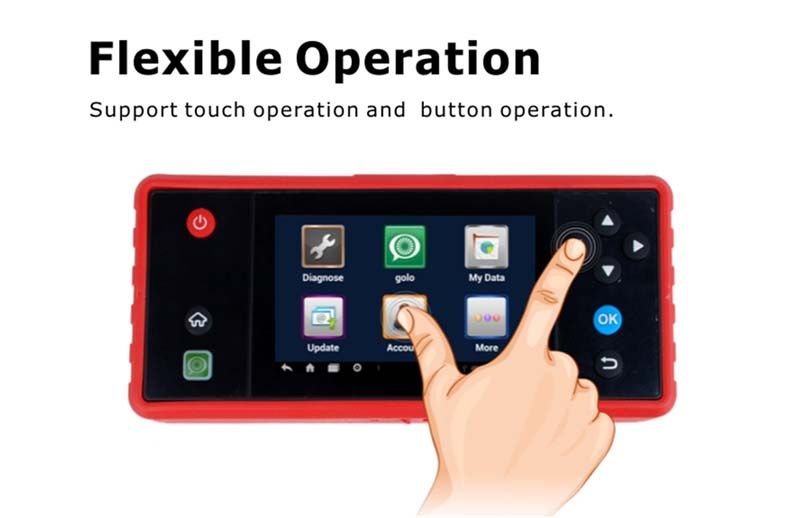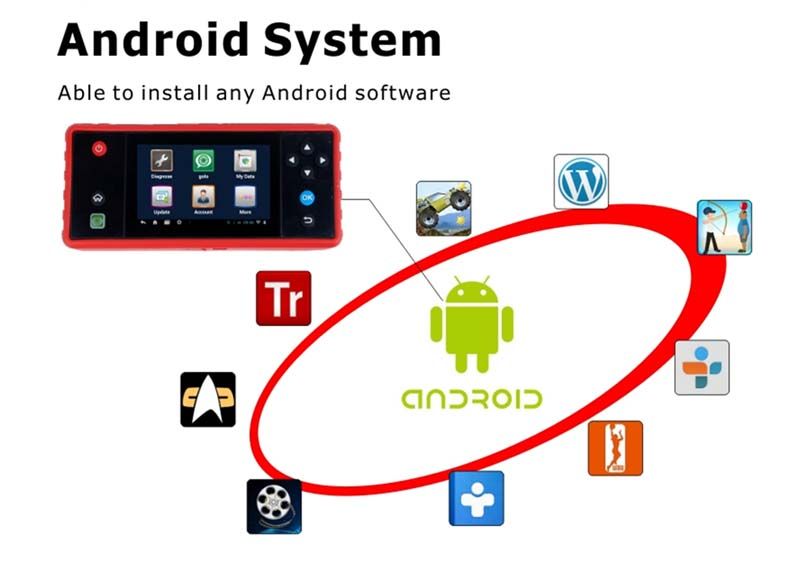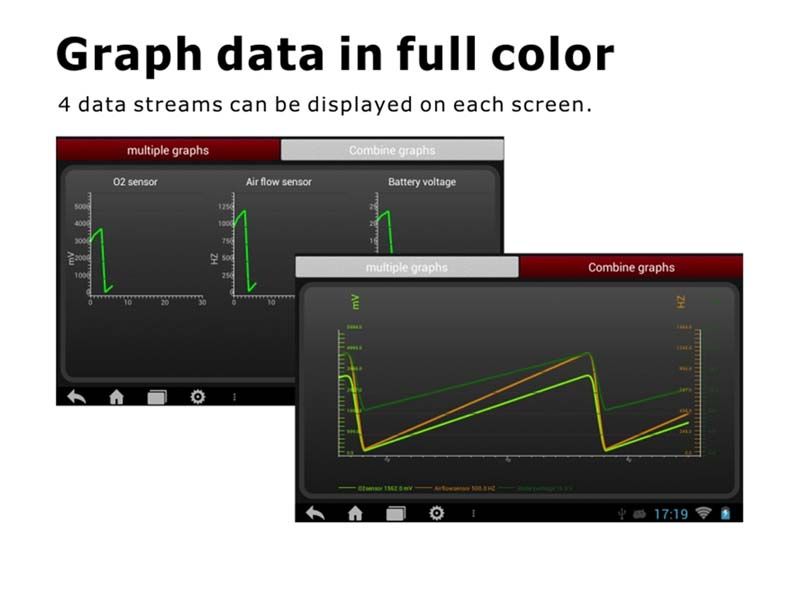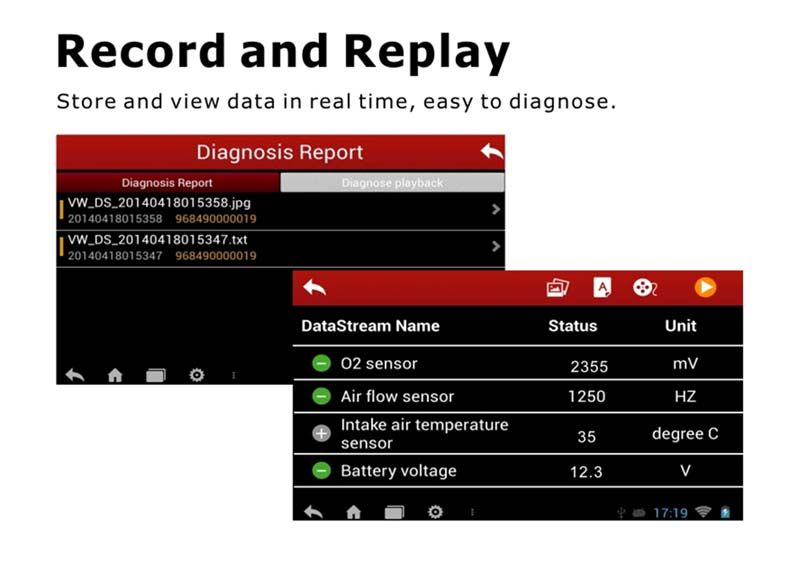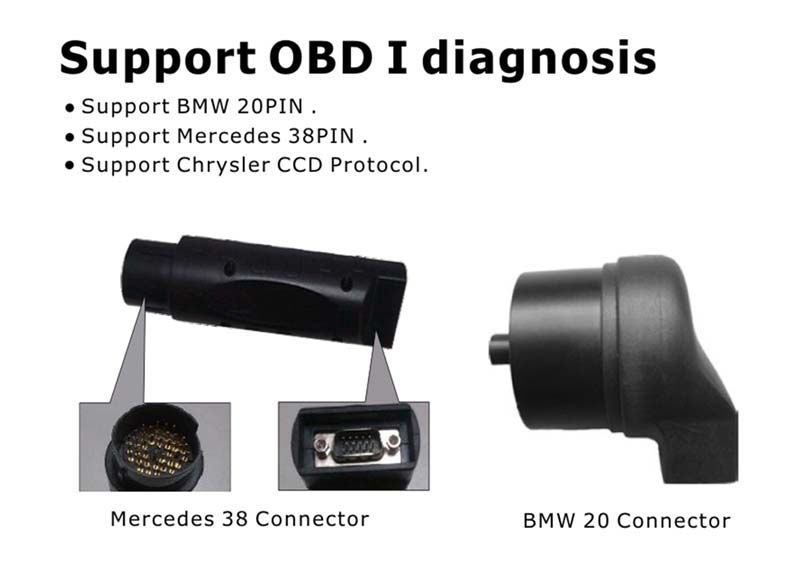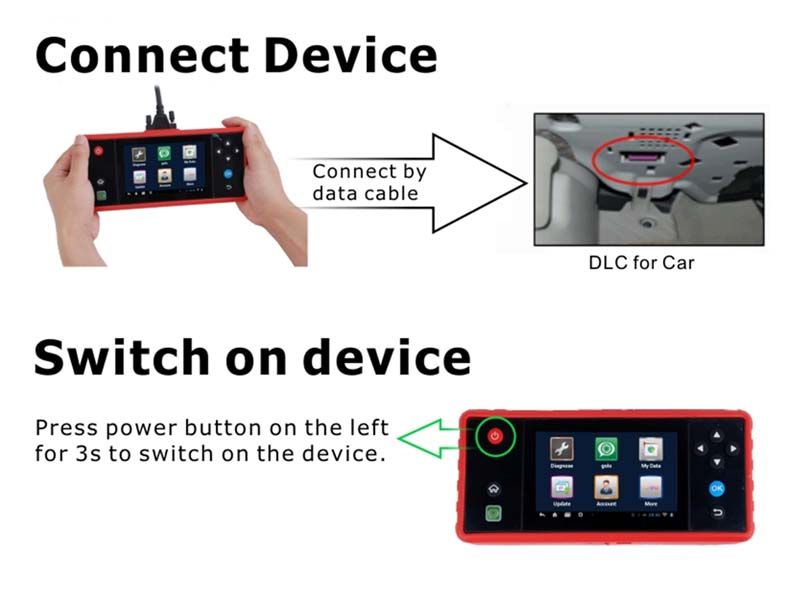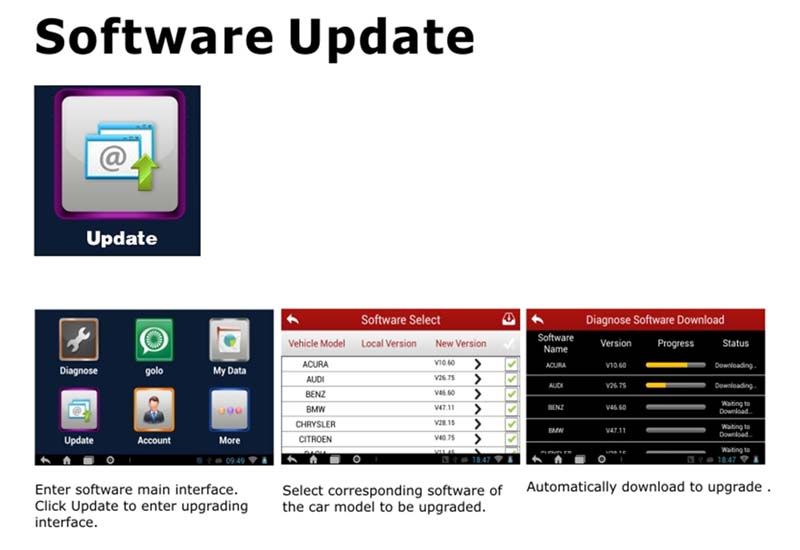 2015 New Release LAUNCH CRP229 Creader Professional 229 All in one OBDII/EOBD Internet Code Reader diagnostic function of all car system ENG,AT,ABS,SAS,IPC,BCM,Oil service rest
$599.99
In Stock, Buy now!