Best price $139 - Autel MaxiTPMS TS401 can diagnose the more than 80 US, Asian and European vehicle coverage for Reads data including sensor ID, tire pressure, temperature, battery condition, OE part number, relearn information
AUTEL MaxiTPMS TS401 TPMS diagnostic & service tool

MaxiTPMS TS401 is a new generation TPMS diagnostic & service tool which features unparalleled sensor coverage and incredibly easy-to-use interface. This ergonomic tool provides you easy and quick access to the faulty TPMS sensor to help you increase customer satisfaction and boost your bottom line.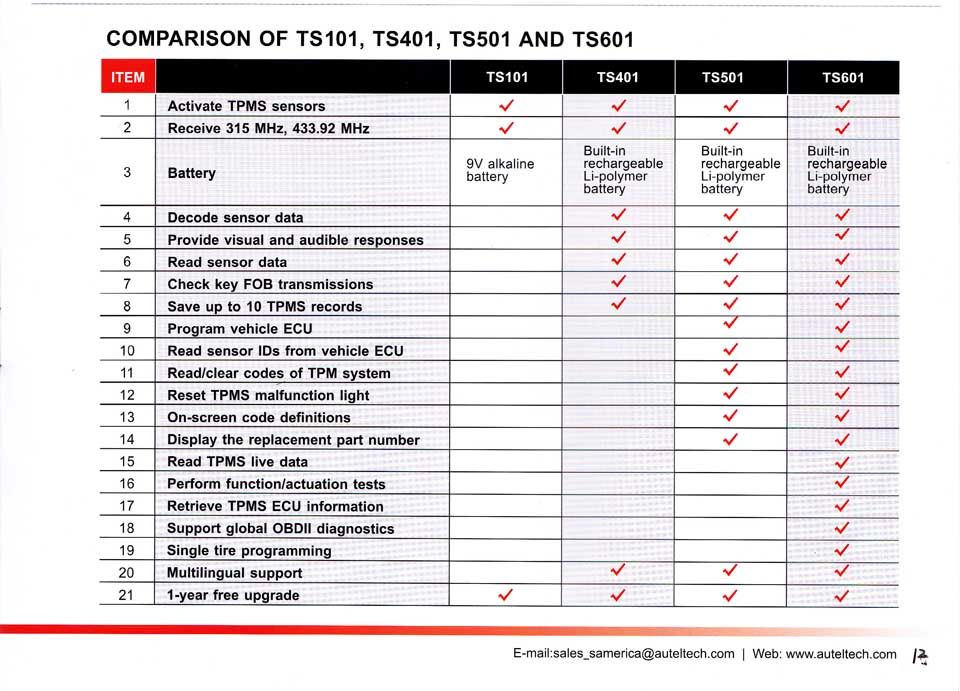 Features:
Unparalleled sensor coverage – activates ALL magnetic, frequency and tire deflation triggered sensors on all vehicles sold worldwide
Receives both 315MHz and 433MHz signals
Reads data including sensor ID, tire pressure, temperature, battery condition, OE part number, relearn information
Checks Remote Keyless Entry (Key FOB) for transmissions
Provides visual and audible responses to confirm sensors are working properly
Accurate diagnosing result – a tool users can trust
Incredibly easy to use with intuitive navigation and step-by-step on-screen instructions
Graphs vehicle with 4 or 5 wheels to simplify the diagnostic process
Pre-selection process offers faster activation and diagnostics
Proper LF signal to prevent being fooled by other RF signals
Built-in rechargeable Li-polymer battery
One year free online software updates
Multilingual support
Saves up to 10 TPMS records for future data review
Automatic power-off to preserve battery life
Modular design allows for future capability expansions
Ergonomic design features strong housing and protective rubber boot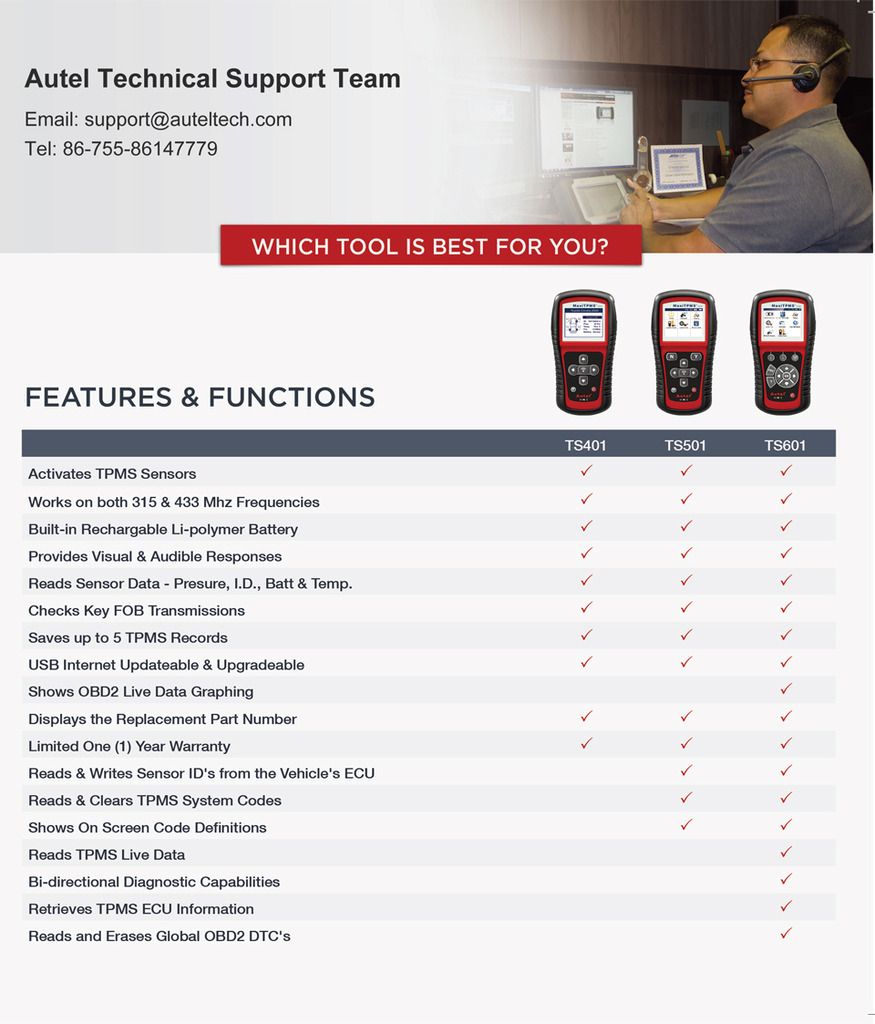 Vehicles Coverage:
Specifications:
Display: Backlit, 128*64 pixel display with contrast adjustment
Power: 3.7V Li-polymer battery
Operating Temperature: 0 to 50C (32 to 122 F)
Storage Temperature: -20 to 70C (-4 to 158 F)
Length\Width\Height: 195.5mm (7.7")\104 mm(4.09")\37.5 mm(1.48")
Weight: 0.37kg (0.82lb)
Package including:
1 x TS401 main unit
1 x Carry case--- A nylon case to store the tool when not in use
1 x CD--- Includes user's manual , Maxilink II kit ,etc.
1 x Charger --- Charges or recharges the built-in battery.
1 x Magnet ---( For early model TPM sensors
1 x USB cable --- Allows easy update via a PC and an internet connection
1 x User's Manual ---Instructions on tool operations.
Autel MaxiTPMS TS401 new generation TPMS diagnostic and service tool unparalleled sensor coverage quick access to the faulty TPMS sensor
$139.00
In Stock, Buy now!