Launch X431 CRP919X Diagnosis Tool
---
OE-Level Full Systems Diagnoses
One-Click Update
Cover 10,000+ Vehicle Models
29+ Special Functions
---
---
Regular price
Save -0%
$349.00
$349.00
---
---
Trusted Delivery
Print
---
Share
Description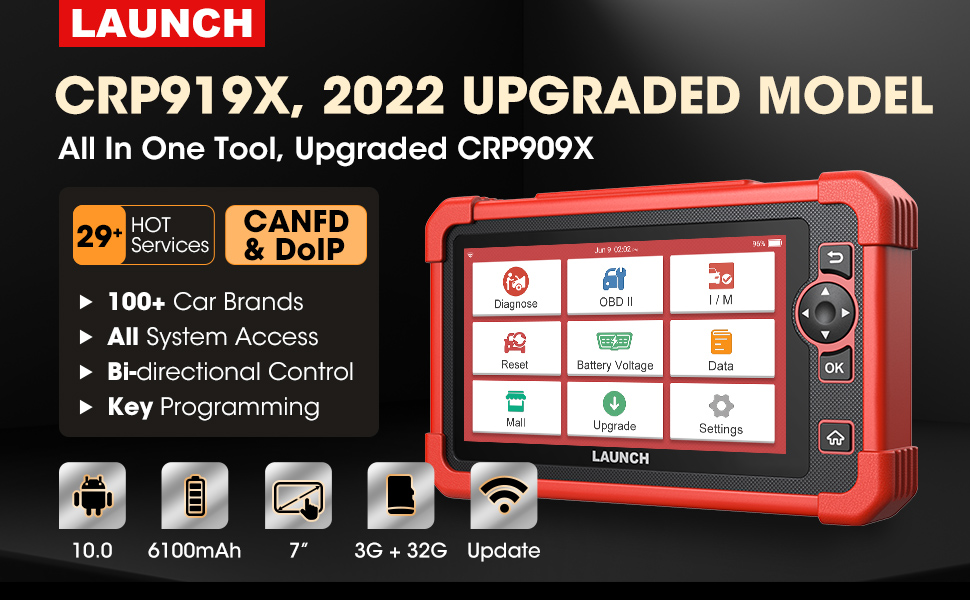 Meet 2022 NEW CRP919X: One Solution to Scan, Diagnose, and Fix

The last-generation scan tool CRP909X has received highly-positive reviews across the automotive world for its good design, ease of use, and great performance. In 2022, the upgraded LAUNCH scanner CRP919X, a better blend of features customized by worldwide feedback, would create a far more satisfying user experience for you:

✔️2022 New Elite Version. All-around upgraded of LAUNCH CRP909X/FOXWELL NT809/ANCELV6 Pro/FX9000//CRP123X/ CRP129X/ LAUNCH CRP429/ LAUNCH CRP TOUCH PRO ELITE

1.2022 Newest Bidirectional Control/Active Test: access vehicle-specific subsystem, send a command to perform specific test and functions to test their working status, such as open/close the Sunroof, turn on the radiator fan and etc. PS: this function is newly released for free to greatly meet customers' demand, which brings this device unbeatable value. (Kindly send your VIN to check compatibility as the function vary on cars.)
2.NEW CANFD & DoIP protocols, covering 100+ car brands in total from the US, EU, and Asia, and still expanding.
3.31+ commonly-used service functions, following clear instructions to complete car maintenance projects much faster. *See details on page.
4.OE-level All System Diagnosis: One touch Scan all the on-board system and read ECU information to receive fault code and then execute further analyze and maintenance.
5.And the complete diagnostic functions you'd expect from a pro-level car scanner: record and playback live data in text & merged graph; fully-features obd2 tests; auto-generated diagnostic report; easy wireless online update among many others.
6.Intuitive 4 in 1 Live Data Graph, Rugged Rubber Grip, boot up in seconds...
7.2-Year Software Upgrade (No Fee) to keep this scan tool regularly enhanced, bring bug fixes, and add more car models to the coverage.

BETTER Settings: top-of-the-line software & hardware of the same product range:

1.Android 10.0 OS – a mature and highly-refined system for ever smoother operation.
2.4-Core Processor – much higher processing speed; gets your results without delay.
3.3G/32G Memory – enough storage space to handle more files and clients' data.
4.6100mAh Battery – can run for 5+ continuous hours before requiring a recharge.
5.7" Touch Screen – a large, crisp, color screen, with an intuitive user interface.



31+ HOT Car Maintenance Functions
We respond to our client's feedback. The following 29+ special functions give you MORE options, to handle MORE frequently-used car services, for MORE supported car models! You don't need another diagnostic scanner to make specific maintenance:

Oil Reset: reset the oil service lamp after changing the engine oil; re-calculate the optimal oil life change interval.
SAS: reset the steering angle to zero to keep the car running straight.
Injector Coding: write the new injector code into the car system for the correct cylinder injection quantity.
EBP: help replace and reset the brake pad.
BMS Reset: register the battery after replacement.
DPF: help remove the particulate matter to keep the trap stable.
ABS Bleeding: help exhaust the air in ABS in an easy way.
Throttle Adaptation: initialize the throttle actuators to the default state.
TPMS Reset: reset the tire pressure.
Immobilizer: Disable the lost keys and add new keys for old antitheft IMMO cars.
Gear Learning: help finish tooth learning after changing crankshaft in the car engine.
Sunroof Reset: initialize the sunroof when to be locked off, or closed.
Suspension Reset: adjust the vehicle body height sensor for level calibration.
AFS Headlamp Reset: initialize the adaptive headlamp system.
Gearbox Reset: help complete the gearbox self-learning to improve gear shifting quality.
And add more reset functions: A/F Reset, ADBLUE, Coolant Bleed, EGR Reset, Language Set, NOX Reset, Seat Calibration, Transport Mode, Tire Setting, Stop/Start, Power Balance, AC System Relearn/Initialization, Windows Calibration, High Voltage Battery Diagnostics, still growing with regular online updates.

"Mall" Allows to Buy More Features

*The LAUNCH Code Reader Pro Scan Tool CRP919X thoughtfully adds the "Mall" module:
*Includes a vast array of enhanced features & expanded car software for users to buy.
*You can make an "in-app" purchase anytime to meet more diagnostic needs.
*No idea if the feature is compatible with your car models? Reach out to us, or check the compatibility list right on the diagnostic scanner.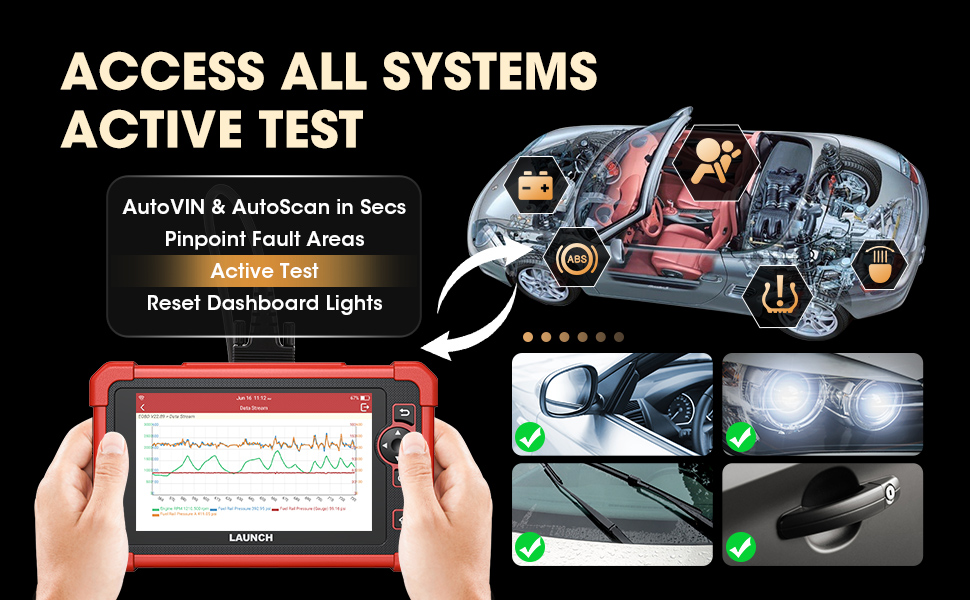 One-Click to Scan All ECUs!

Unlike most obd2 scanners on the market focused on fuel efficiency and emission status, this LAUNCH scan tool can access all available central systems and sub-systems such as PCM, ECM, EPS, PDM, BCM, TPM, SCCM, RADIO, etc.

AUTO SCAN: straightforwardly get detailed info about the car, ranging from engine type to where it was manufactured. Then it offers full-system diagnosis and comprehensive codes after finishing scanning and detection.
Control Modules: If you wanted to check a certain system, 'control modules' will be a better choice.
Read fault codes: read DTCs to identify where the fault location is;
Clear fault codes: erase the DTCs to turn off the MIL after repairs;
Retrieve ECU information: this allows you to retrieve vehicle information, such as year, model, manufacturer, engine type...
4 in 1 Live Data Graph: Monitor real-time Live Data Stream displayed in text or graph; can be merged for easier view, and recorded or replayed for further analysis.
With this all-system diagnostic scanner, you can 1) monitor the transmission performance in real-time and find out the temperature of transmission fluid while driving; 2) monitor and check on the SRS system health, e.g. airbags, impact sensors; 3) get the fault codes in the anti-lock braking system that could be a serious warning of potentially risky problems …
ALL vehicle systems, including: Engines/Auto Transmission/Airbags/Immobilizer/Key Coding/ABS/Cruise Control/Instruments/ Self Leveling Suspension systems/Seats/Doors/Gateway/Steering Angle/Air Suspension/Body Systems/Electronic Power Steering & Motor Assisted/Power Steering/Tyre Pressure/Rain Sensors/4WD System/Stabilizer/Intelligent Parking Assist/Door Motors/Audio Systems/Air Conditioning/Tiptronic/Anti Theft/Soft Top/Headlamp Leveling/Central Locking/Automatic Clutch/ DPF Reset/Electric Windows/Plip Programming/Heated Rear Window/Xenon Headlights/Wash Wipe/Fuel Burning Heater/Transfer Box/Seat Memory/Oil Life Service Reset/Sliding Doors/Electronic Throttle/Navigation System/Rollover Sensor/Cruise Control/ Multi Function Steering Wheel/Aux Heating/Electronic Parking Brake/Clutch Electronics, ....etc.

Bi-directional Scan Tool: Active Tests

This LAUNCH scan tool has the bi-directional control to greatly save your time for troubleshooting.

What would you do if the wipers stopped working? Just replace one or spend a lot money to fix it? Don't be in a hurry to dismantle your cars! Bidirectional control tool CRP919X can perform real active test that can send commands to the vehicle's ECU to drive the actuators to work, like ABS, window, door, solenoids, valves, wipers, headlamp, etc, helping you quickly find out bad parts and pinpoint faulty issues.

For example: using the diagnostic scanner to command the fuel pump. If the fuel pressure gauge shows proper fuel pressure, you'd know the fuel pump circuit and pump are functioning properly. The process just takes < 5 minutes. If test manually? At least 3X times as long!

NOTICE: Kindly send your VIN to check compatibility as the function vary on cars.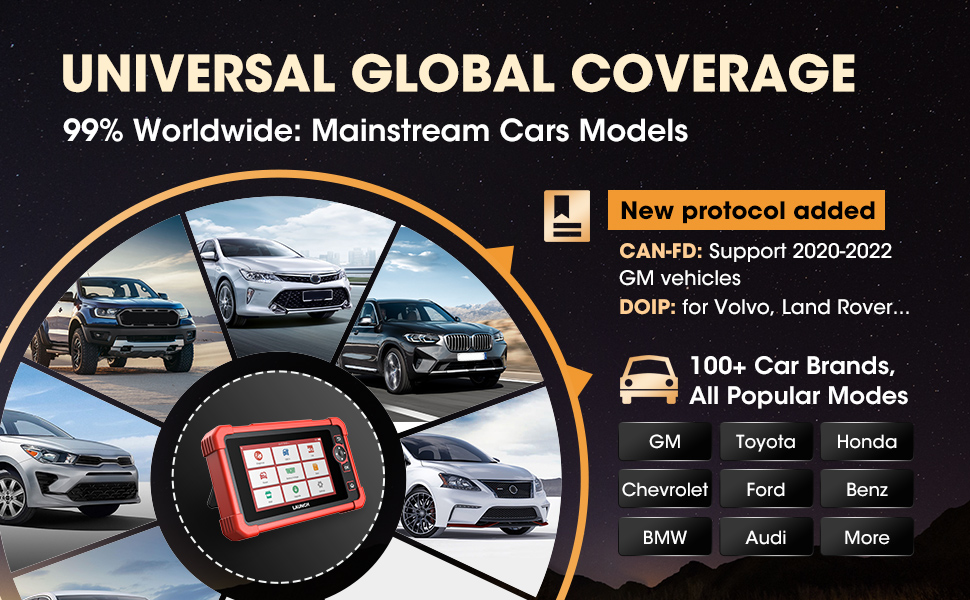 One Tool to Cover 99% Cars!
Compatible with a Wide Range of Vehicles

When choosing an OBD2 scanner or diagnostic scan tool, one of the most important considerations is how compatible it is with different vehicles. This LAUNCH diagnostic tool has the improved vehicle coverage, being well-matched with over 99% of popular cars from America, Europe, and Asia, even the most recent models till 2022:

*2022 NEW! Support CAN-FD: for some GM cars (2020 TRAX, Cavalier, GL8 Avenir ...)
*2022 NEW! Support DoIP: for Volvo, Land Rover/Jaguar, BMW F/G Chassis …
*100+ Car Brands for all-system diagnostics & special functions: most commonly-seen car brands in the U.S. like GM, Toyota, Honda, Chevrolet, Ford, Benz, BMW, Audi, Renault, Land Rover, Volvo, Chrysler, Jaguar, Kia, Hyundai, Nissan …
*As an OBD2 code reader to support most OBD2 cars compatible with J1850 PWM, CAN, ISO9141, J1850 VPW & KWP2000 protocols, made after 1996 in the US, 2000 in EU, and 2008 in Asia.
*And the constant software updates will add more new car models to the coverage!
*The expanded coverage makes this scan tool ideal for mechanics to better deal with the fleet of vehicles coming into the workshop.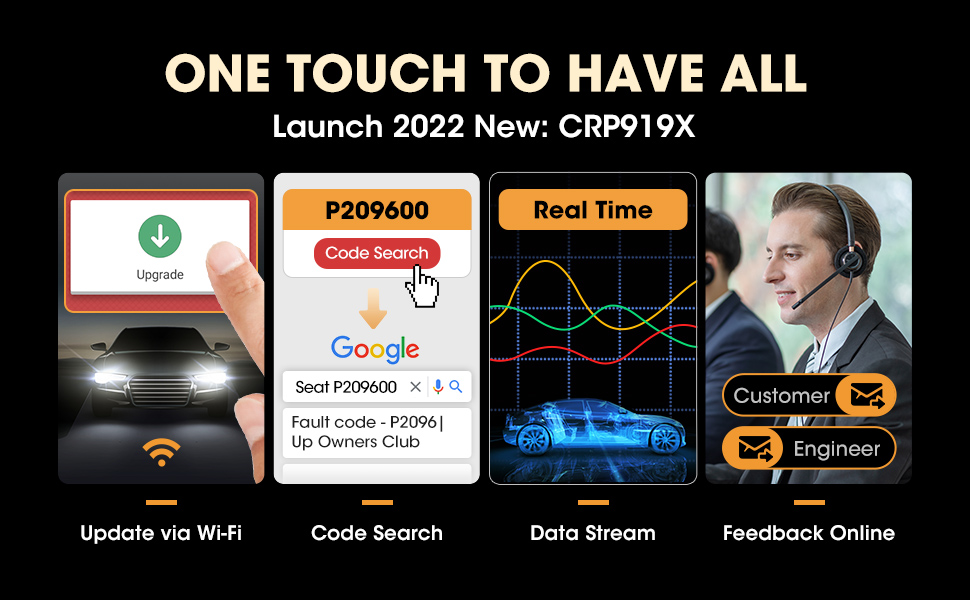 One Touch to Have ALL!
Takes Your Productivity to the Next Level

LAUNCH is really good about updating its diagnostic tools.

*This is the car scanner to check for updates regularly like once a week.
*As soon as LAUNCH comes up with expanded features & car coverage, more solutions, and bug fixes … they put them on the internet for users to download.
*As this diagnostic scanner is fully Wi-Fi capable, with ONE touch you'll easily get CRP919X upgraded in seconds wirelessly without hooking it up to a computer.

This LAUNCH scanner always displays error codes with explanations.

Click on the "Code Search" icon to dig more. It will switch to Google to show you more analysis of trouble codes, reasons why such faults occur, and even YouTube links.

Getting stuck in troubleshooting? This scan tool has the Repair Info & Tips:

*The training videos are relevant to specific vehicles and faults in the real world.
*The repair tips are verified by professionals, based on millions of successful repairs.
*Need technical assistance? Try Online Feedback.
*Get 24/7 direct connection to our professional team to guide you to fix tricky car issues.
*You can also feedback the diagnostic software/app bugs to us for improvements.

Diagnostic History Function, Recording Every Details of Diagnosis

Real-time data stream supports the graphical, textual, and analog display of complete real-time data and parameters of multiple systems to facilitate real-time monitoring of the working condition of electronic components for troubleshooting, but supports up to 4 textual data streams combined to generate graphical data streams at the same time.


IMMO Antitheft
Secure your car from getting stolen with this car scanner's IMMO service to disable the lost car keys. You can also add new keys. But noted that this service is ONLY available for cars equipped with early IMMO systems: some 3.5th gen. VW, Audi, Skoda, Seat and Asian vehicles.

7" Screen & Android10.0
The fine-turned and mature Android10.0 O.S. makes operating the diagnostic scanner simple and frustration-free. The fast processor gives the answers you need without delay. And thanks to easy-to-use layout, everything can be well-done with a simple tap on the large 7" touch screen.

Battery Voltage Monitor
LAUNCH put this 2022-NEW feature in this diagnostic scanner, allowing you to monitor the car's charging system. This scan tool can detect the battery's voltage in real-time graphics so you can easily determine if the battery has enough juice to power car electronics.

Auto-generated Diagnostic Report
Once the scan is complete, a diagnostic inspection report will be generated automatically to list the detailed inspection result in a row, accurate and fast, letting you maintain vehicle health logs. You can save, print the report, and share it via email for expert advice.


Genuine LAUNCH Scanner
Please note that the LAUNCH Tech. USA, one of the dealers located in America, is not equal with the original manufacturer LAUNCH Tech. All of our on-sale diagnostic scanners are direct from the LAUNCH Tech., coming with official benefits of 5 years product backup and more.

AutoVIN Technology
This LAUNCH car scanner also has the smart software to automatically recognize your vehicle's make, model, year, historical data … as soon as you connect it up to the car. This saves a lot of time and energy, without it you have to do loads of vehicle research.

10 Languages Menu
As an added perk, this LAUNCH diagnostic tool comes loaded with 10 languages: English, French, Spanish, German, Italian, Russian, Portuguese, Japanese, Korean, and Polish. It is easy to switch to your favorite language with simple one touch. No costs are involved.

Delicate Package
This diagnostic scanner is nicely packed in a protective package, which will survive the accidental drop, and making it an excellent present for your family or friends. The package has the nationwide 2-day delivery. You'll have the scan tool just right on time when you need it most.
Authorization
Reviews