Autel MaxiCOM MK906 Pro Diagnostic Tool
---
36+ special maintenance functions
Advanced ECU online coding
comprehensive TPMS function
No IP restrictions
---
---
Regular price
Save -4%
$1,090.00
$1,139.00
---
---
Trusted Delivery
Print
---
Share
Description
Autel MaxiCOM MK906Pro Diagnostic Scanner-Outstanding Money-maker for Repair Shops and Garages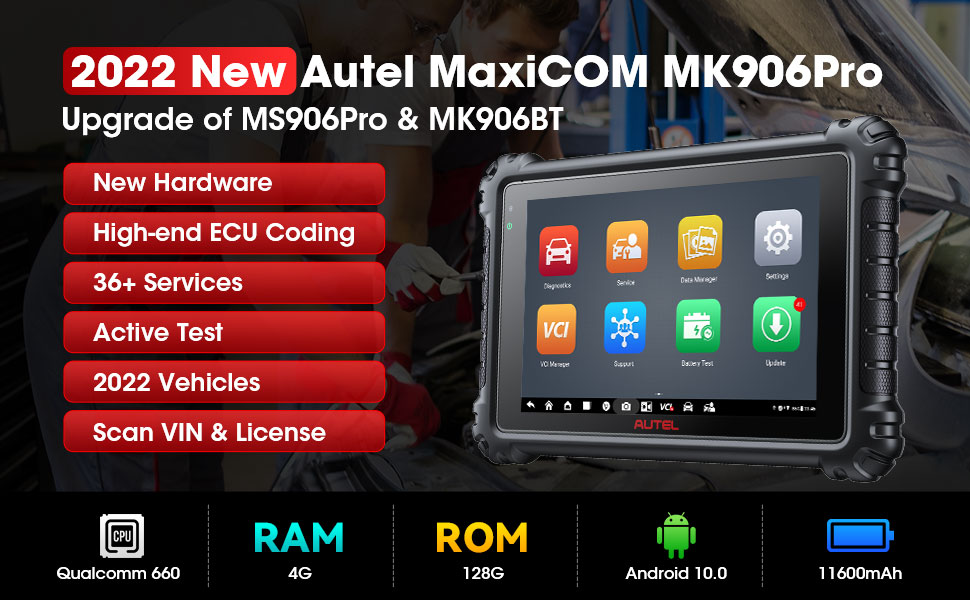 Autel MaxiCOM MK906Pro: Upgrade of Autel MaxiSys MS906BT/MK906BT and hold the same diagnostic functions as MS906Pro/MK908. 2022 ver. MK906Pro has a comprehensive updating and optimization of the hardware configuration: Equipped with Android10.0OS and Qualcomm 660 processor, it can run faster diagnostics & longer work time and easily handle multi-tasks. In addition, the MK906Pro scanner does better at assisting repair shops/garages in managing customer information and diagnostic reports, which greatly improves efficiency and services.

Top 1 Choice for Repair Shops and Garages

100% Original Autel diagnostic scanner
Work for global 10000+ vehicle models, and Access FCA SGW vehicles
Advanced ECU coding activates high-level vehicle functions
33+ reset functions repair 99% of common vehicle problems
Bi-directional control pinpoints problems within 5 minutes
VAG guided functions ease the complex diagnostics for you
Auto VIN for quickly automatic vehicle identification
OE-level system diagnostics for all available vehicle systems
Cloud data management keeps all the reports well-organized
Extended Functions: Oscilloscope, Videoscope, Battery Test

Advanced Functions Simplify Busy Diagnostic Work
Advanced ECU Coding
Autel MK906Pro diagnostic scanner comes with advanced ECU coding functions and Personalization, which makes this high-level automotive scan tool outperform better than other diagnostic tools in the aftermarket.

ECU Coding:

Reprogram adaptive data for vehicle ECUs after repairs and improve vehicle performance.
Offline Programming: compatible with Ford, Mazda, Jaguar, Opel, Vauxhall, etc,

Online Coding:

Compatible with BMW, Porsche, VW, Infiniti, Hyundai, etc.
Allow you to obtain the online data from the server to activate each component when the code data is lost to restore the vehicle performance.
Personalization: Compatible with BMW, VW, Skoda, etc.

Modify some code to enable or disable the personalized functions.

1.deactivating the start/stop

2. customizing the interior light

3.disabling seat belt warning sounds

4.adjusting the foldable mirrors

5.changing the tilt mirrors

VAG Guided Functions: Compatible with VW, Skoda, Seat, Man LD, Bently, etc.

36+ Commonly Used Reset & Relearn Functions
36+ Functions
Equipped with 36+ maintenance features, Autel diagnostic scanner MK906Pro is a must-have tool for every repair shop to win more businesses and profits. Following are some of the most commonly-used reset functions for reference:

Oil Reset / EPB Reset / TPMS Reset / BMS / Brake Bleeding / Aftertreatment / IMMO Keys / Injector Coding / SAS Reset / Suspension / Throttle / WIN DR ROOF / Seats / ODO Reset / Lang Change / Headlamp / CHG Tire Size / TEC Learning / ABS SRS / Cylinder / VTG Learn / Speed & PTO / Clutch Reset / Trans Adaption / Airbag Reset / A/F Setting / etc.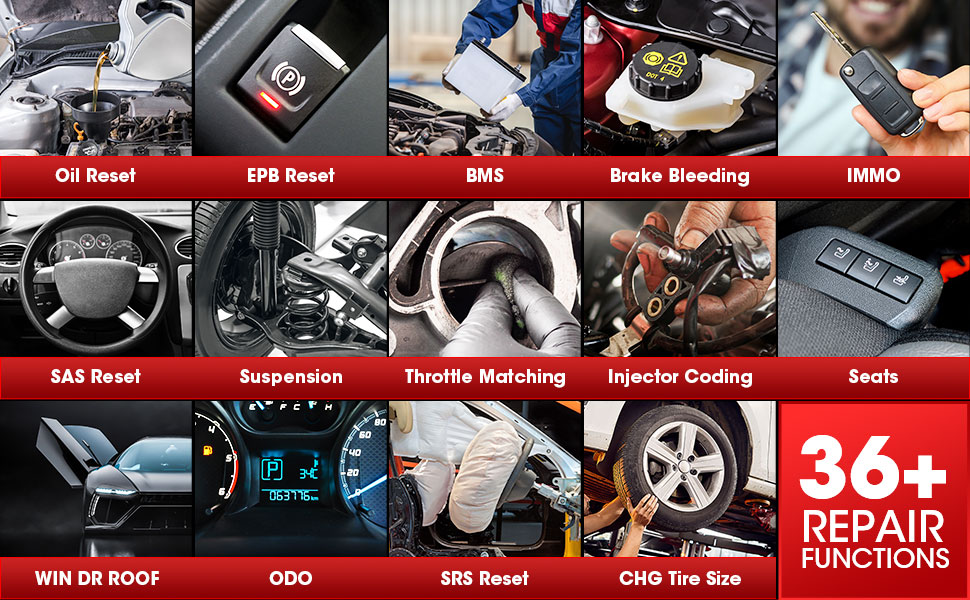 8 Hot Repair Functions:

Oil Reset: Reset the oil life system and turn off the oil light to start a new cycle.

ABS Bleeding: Exhaust the air of a brake system to restore ABS brake sensitivity.

SAS Reset: Reset the steering angle to zero to keep the car running straight.

BMS Reset: Re-match the battery control module and motoring sensor.

Injector Coding: Write the new injector code into the car system for correcting cylinder injection quantity

IMMO: Add new keys and match new remote control for vehicles with low-grade anti-theft systems. No key programming function.

DPF Regeneration: Clear particulate matter from the DPF filter.

Suspension: Adjust the vehicle height sensor for level calibration when replacing the vehicle height sensor or control module in the air suspension system.

Throttle Matching: Initialize the throttle actuators to the default state after replacement.

Functions vary by vehicle model, year, system, etc. You can check the compatibility before purchasing.

User-friendly Functions Bring More Convenience and Efficiency

Autel MK906Pro automotive scanner has newly developed features: Report Management, Pre & Post Scan, WiFi Printing, etc., to facilitate vehicle diagnostics and improve problem-solving efficiency.

Report Management: A cloud-based solution for archiving and business applications of reports

All the real-time & history reports generated by Autel diagnostic scan tool can be saved to the Cloud for a lifetime and shared with your customers via QR codes, text messages,and mails etc. You can view these reports at any time and will never be bothered by data report loss.

Pre & Post Scan

Pre & Post Scan reports are now available on the MK906Pro Autel scanner. These new features make it easy to document the vehicle's pre-repair and post-repair condition. The Pre & Post Scan reports will be combined into a single report file that can be saved to the repair shop system, printed, or mailed to the customers.

If You Are The Technician: You can create a more efficient repair plan from the start and confirm all the faults being solved after repairing.
If You Are The Customer: You can accurately know your vehicle problems and avoid the unreasonable charge

WiFi Printing

Now you don't need to find your PC and perform many operation steps for printing a report. One-click WiFi Printing can directly print what you need by tapping on the Autel MK906Pro. The original printing via PC-Link is retained, and you can choose freely.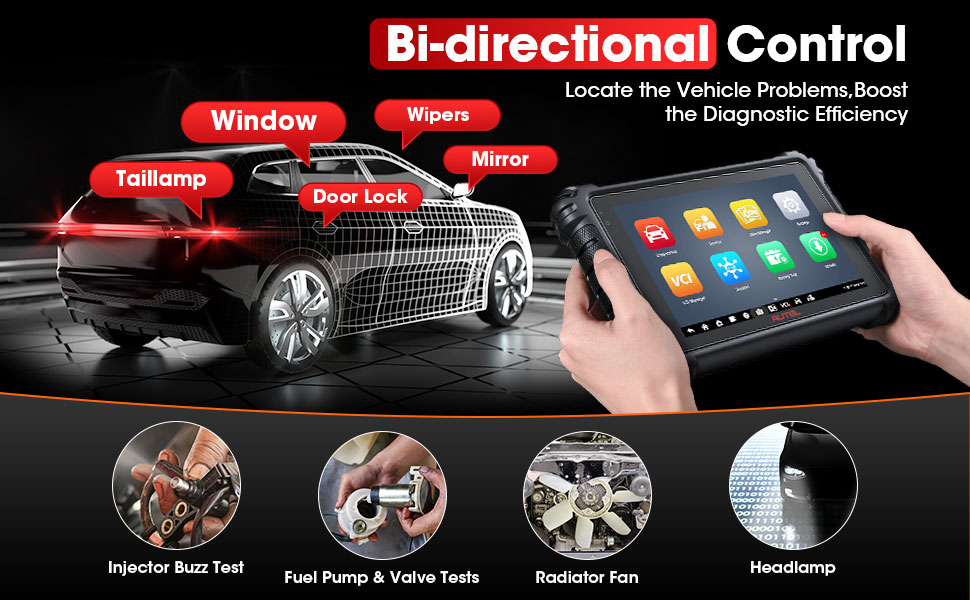 Bi-directional Control (Active Test) For Quick Troubleshooting
active test
The Active Test can be the greater innovative function of Autel MaxiCOM MK906Pro. This function can be used to access specific components and subsystems and determine the integrity of the system by reading ECU data and monitoring the operation of the actuators.

For Example1: A DTC P0443 (Evap Purge Solenoid Circuit) is found on the Dodge. The MK906Pro scan tool is capable of commanding the purge valve on and off. And then the fuel trim levels increased, indicating the solenoid opened. Based on the results, the purge solenoid should be replaced.

For Example2: The fuel pump is not working and no fuel pressure was measured. Using the Autel MK906Pro OBD2 scanner to command the fuel pump. If the fuel pressure gauge is normal, indicating the circuit and pump are functioning properly.

For Example3: If you get a shift solenoid-related code, you can access the AT module and test each shift solenoid to determine which one is faulty. Such tests may also include relay or switch, between two operating states. Available tests vary by vehicle.


User-friendly Features
Paired with extra tools videoscope(MV105/108), battery tester(BT506), and oscilloscope(MP408), Autel MK906Pro extends its functions to checking fuel pumps & engines, testing vehicle batteries, and monitoring vehicle signal activities, which makes diagnostics more comprehensive and accurate. Note: The tools are sold separately. You can buy them in UBking-US if needed.

All System Diagnostics
With Autel MaxiCOM MK906Pro, it performs OE level diagnostics for all available 1996-2022 vehicle systems and easily pinpoints the problems from Engine, Gearbox, AT, ABS, SRS, EPB, IMMO, IC, Airbags, etc. It reads codes & views live data to find all the vehicle issues hidden under the hood and clears codes to recover the optimized performance.

Quick Auto VIN Identification
Once the Autel MK906Pro diagnostic scanner connects to the tested vehicle, it can automatically read the VIN information (year, make, model, etc.) to quickly identify the vehicle and saves some time for diagnostics. For those vehicles that are not compatible with the Auto VIN Scan function, Scan VIN & License are also available.


What's in the Package?

Autel MK906Pro + MaxiVCI V200; AC/DC Adapter (12V)*1; Type-C USB Cable*1; Auxiliary Power Outlet Adapter*1; Spare Fuse*2, ; Soft Cloth*1; USB to Ethernet Adapter; Carrying Case*1; Packing List*1; Quick Reference Guide*1

13 languages: English, German, Spanish, French, Traditional Chinese, Japanese, Polish, Portuguese, Russian, Italian, Korean, Dutch, and Swedish.

Access FCA SGW Vehicles

2022 MK906Pro scanner is allowed to diagnose US FCA vehicles and is compatible with Fiat, Chrysler, Alfa Romeo, Dodge, etc. (2017 and later).

Prerequisites: 1) Register an AutoAuth account for MK906Pro; 2) Connect to the Internet when using it; 3) The MK906Pro scan tool must have an active updating for the newer version of diagnostic software.
Specifications
Downloads
MK906 Pro User Manual 202209.pdf Download
Authorization
Reviews